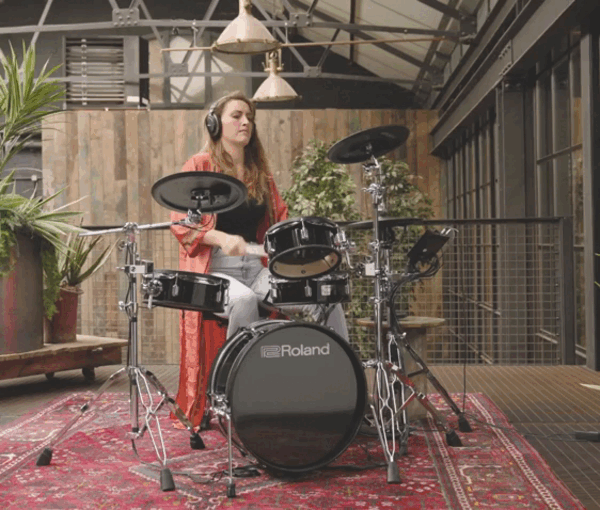 Meet the new entry-level kit in the V-Drums Acoustic Design series—the VAD103. Powered by the versatile TD-07 sound module, get lost in authentic pro-drum tones the moment you sit behind your set. Just power up, pick a kit, and play.
The Latest Generation of V-Drums
In 1997, Roland V-Drums pioneered electronic drum kits as we know them today and continue to lead the way when it comes to innovation. Often imitated but never bettered, V-Drums set the standard by which all other electronic drum sets are measured, and the VAD103 upholds that tradition with unbeatable durability, precision sensing and sound, class-leading pad designs, and behavior modeling technology developed over decades of R&D. As part of the acclaimed V-Drums Acoustic Design series, the electronic drumming experience goes deeper with real wood shells and acoustic drum presence. With the VAD103, you get a truly exciting and unique drumming experience—not just a simulation.
Bigger Pads, Better Feel, Smaller Footprint
Generally, larger drums mean better performance—until you realize your new full-size kit takes up more space than you have available. The VAD103 is the perfect balance of playability, pad size, and compact footprint. An 18-inch kick provides that satisfying "push" as your foot activates the beater but is purposefully shallow for where space is tight. The 12-inch snare and floor tom pads, along with the 10-inch rack tom pad, are sizeable enough for an authentic kit feel but compact enough to fit into smaller spaces. Mounting to an acoustic stand, the VH-10 hi-hat completes the acoustic vibe, while dedicated 12-inch crash and 13-inch ride cymbals feel satisfying to play without swamping your space. Choose the VAD103 for a kit that feels substantial to play but is compact enough to fit into everyday life.
Drum Tones for Every Genre, Song, and Band
At the heart of the VAD103 is the TD-07 sound module, offering 25 ready-to-play drum kits. Recorded by pro drummers in high-end studios and brought to life by our advanced behavior modeling technology, each kit sounds and reacts just like acoustic drums. With kits that span acoustic, electronic, and percussion sounds, the TD-07 module puts it all at your fingertips for when you just want to get drumming. And if you want to go deeper, you can dream up and create up to 25 of your own kits.
The Quietest Electronic Drums Around
It's a game changer to discover that electronic drums let you connect headphones and play properly without disturbing those around you. But liberating as that may sound, lesser electronic drums are compromised by loud pad noise and vibration, so while it feels like you're playing quietly, the noise spills through walls and floors. The VAD103's pads are designed to be truly quiet, reducing stick noise and vibration without compromising playing feel.
Learn more about the VAD103 here